Symposium 2021 – ALANYC Symposium 2021 – ALANYC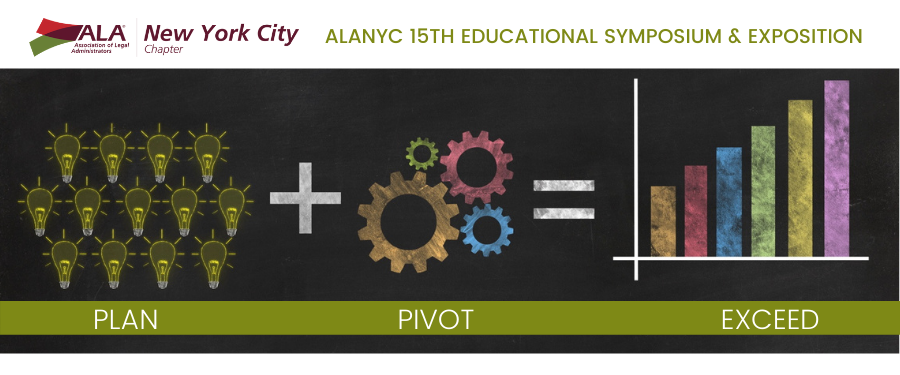 Schedule  |  Sessions Overview  |  FAQs  |  Register
We are excited to announce ALANYC's 15th Educational Symposium and Exposition! This is a MUST ATTEND event as we celebrate our 15th Educational Symposium, bringing our members thoughtful and practical legal management education.
In 2020 all of our plans were turned upside down. Our lawyers and staff pivoted to a new way of conducting business almost 100% remotely in March of 2020. As law firm leaders, it has become clear that we need to come up with creative ways to engage with all our employees as we will continue to support a substantial remote workforce going into the future.  We need to pivot policies, budgets, staffing and workflows to accommodate this change.  2020 also focused our attention on the crucial need to address issues of diversity, inclusion and equity within our firms and ourselves. Even once COVID-19 is squelched, there will be no going back to the "old" normal.
There's a lot to learn about successfully leading in this "new" normal.  Our Symposium will help you to exceed in your leadership role.
How Will Our 15th Educational Symposium & Exposition Be Different?
ALANYC is pivoting to a virtual symposium.
Sensitive to Zoom fatigue, we are spreading the Symposium over a week, scheduling just two time slots for educational sessions each day and time to visit with our Business Partners at their virtual booths.
There will be plenty of opportunities for Members to engage with our trusted Business Partners through our Scavenger Hunt and networking events.
We've got not one but two amazing keynotes, opening and closing, and our Labor Law update!
In addition to a roster of excellent classes to choose from, we will provide a unique interactive team-up for our Members and Business Partners that you won't want to miss.
This eventful week is included in your membership fee! Special pricing for non-members is available.